"We are linked to one another's bodies, throughout time and history, in a female lineage that has carried on the human story,
carried the men and the women, given life and suck to all the living, closed the eyes of all the dead."           
 –Naomi Ruth Lowinsky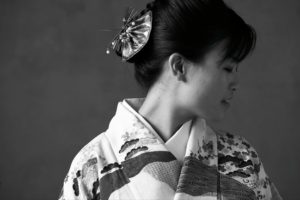 ISAKO ISAKO, my debut poetry collection, weaves together details from the lives of my grandmothers to explore the impact, both intimate and wide-spread, of displacement and war. The poems trace the history of Japanese American internment, my expatriate upbringing in Southeast Asia, and ultimately, my place in a female lineage that, as Naomi Ruth Lowinsky says, "has carried on the human story… given life and suck to all the living, closed the eyes of all the dead."
"Standing in the shadow / of the A-bomb memorial," what does it mean to survive? What does it mean to lose everything—and to go on living? To stand at the crossroads of generations and to remember? And finally, what does it mean to live in the current historical moment, so haunted by the exclusions, hateful rhetoric, and xenophobia of the past?
Forthcoming in September 2018 from Alice James Books.
Check back soon for more details!