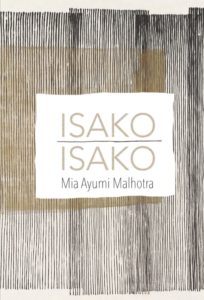 WINNER OF THE 2017 ALICE JAMES AWARD, THE NAUTILUS GOLD AWARD FOR POETRY, A NATIONAL INDIE EXCELLENCE AWARD, AND THE MAINE LITERARY AWARD FOR EXCELLENCE IN PUBLISHING; FINALIST FOR THE CALIFORNIA BOOK AWARD AND NORTHERN CALIFORNIA BOOK AWARD
Available September 4, 2018
ISBN 978-1-938584-94-7
Order here from Alice James Books or here from Bookshop.org.
"Isako Isako is a powerful testament to poetry's capacity for alchemizing history, memoir, and the lyric: the poems here intimately address the landscapes of war and the reverberations of violence through bodies and bloodlines. Malhotra's visionary debut collection spans generations, countries, and loves, weaving the story of a mother survivor with reflections on the limits and reaches of memory. Sandalwood cities, desert gardens, dragon skin, and peach pits emerge from a shadowed past, details that 'elude / even as they're remembered.' "  —Brynn Saito, author of Power Made Us Swoon
"Mia Malhotra labors in the mythic burdens and beauties of an ancestral story, delivering a vision that proliferates beyond the usual borders between generations, nations, or collective eras of psychic trauma. In these poems, haunted equally by historical event and the timelessness of human suffering, we find a stunning imagination at work on the sacred task of bodying forth, through an uncommon compassion, the stories that history might otherwise eclipse. The multiplicities here are deeply felt through the invention of the transgenerational consciousness of Isako–she who suffers recurringly all the bitter privations of war, starvation, exile. In lyrics that leap, stutter and start again, the reader feels Isako's voice both across and poignantly through the confines of literal time and place. Malhotra's poetry demonstrates what is still best in us, the counterpart to cruelty coming back in the surviving descendant's intimacies and empathies, her innovations in language and, ultimately, love." —Pimone Triplett, author of Supply Chain and Rumor
"The personal pronoun 'I' has brinks on all sides, over which you can fall and become anyone and no one. Isako, Isako deeply explores these soaring and dangerous precipices of identity through the magnetic voice of a Japanese-American internment camp survivor who is both an individual and collective, a citizen and a prisoner, broken and healing. Mia Ayumi Malhotra has written a brilliant and searing debut."  –Maria Hummel, author of Still Lives and House and Fire
ISAKO ISAKO PRESS, ETC. 
Book review at the CSU Center for Literary Publishing
Featured in Library Journal's "Top Fall Poetry Collection"
New England Poetry Club Motton Book Prize (honorable mention)
Northern California Book Award (finalist)
2018 Maine Literary Award for Excellence in Publishing
2018 California Book Award in Poetry (finalist)
2018 Julie Suk Award (finalist)
Book review in CALYX, Vol. 31.1
Book review in RHINO Reviews: "Remembrance, Persistence"
Featured poem in the San Francisco Chronicle's "State Lines: A poem by Mia Ayumi Malhotra"
Featured in Electric Lit's "10 Books of Poetry that Highlight the Diversity of Asian America"
Featured title on Entropy's Best of 2018: Best Poetry Books & Poetry Collections
Book review on Hyphen Magazine Blog: "Becoming Isako"
Article in The Mercury News: 'Isako Isako' weaves lives of generations of Asian-American women into poetry"
Interview on Asian America: The Ken Fong Podcast
Interview and reading on The Lit Fantastic, hosted by Neil Aitken
Poetry playlist on Verse Press
Featured poem on Poetry Daily (October 3, 2018)
Book review on KQED Arts' The Spine: "This Heartrending Poetry Debut Follows Four Generations from Japan to America"
Interview and reading on The Fourth River: Estuaries Podcast
Book review in Publisher's Weekly
Book review in The Japan Times: " 'Isako Isako': No punches pulled when confronting internment"
Roundup mention on the Asian American Writers' Workshop's The Margins: "September Bookmarks: 22 New Books by Asian Writers"
Roundup mention on Lantern Review Blog: "Four Fresh and Forthcoming APA Collections to Enjoy This Fall"
Local Book Pick in The Rumpus' Notable San Francisco
Title feature in Poets & Writers' "Page One: Where New and Noteworthy Titles Begin"